Gail Farrow, a devoted mother and wife, died when she was just 27. She left behind four young sons, Ronald Jr., Frank, Kenny and Benny, and her husband Ronald.
David Binder began photographing Gail and her family in 1987, documenting Gail's last year of life and her family's early adjustment to continuing without her.
With insight and honesty, his film and photographs explore the pieces Gail left—photographs, letters, guidance and memories… Twenty years after her death, Gail's hopes for her family collide with the reality of their lives.
Calling My Children is a testament of a family's life and a mother's love.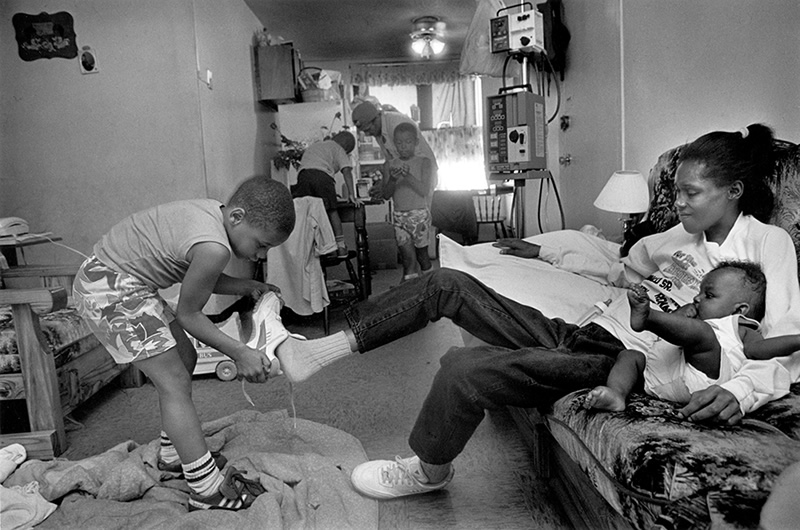 "I began photographing Gail and her family in 1987, spending every day with them until Gail's death in 1989 and then continued with Ronald and the children for six months after. I revisited Ronald and the children ten years later in 1998 to update their story for LIFE magazine. I have made a documentary film on Ronald and the children, and on the presence of Gail in their memories and their lives."
Among the many readers that responded to the first publication of Gail's story in 1990 (In Health Magazine), was a most extraordinary response from a man in Bowling Green, Kentucky. This man, of working class means, contacted the magazine to let the family know of his interest in paying for private school for all four of Gail's children. He did indeed pay for the children's schooling for eight years, until he was finally forced to declare bankruptcy.
Gail Farrow's story has profoundly resonated with diverse audiences through its presentation in magazines and exhibitions. This is a rare view of the bonds of family love that are both torn apart and endure through the ordeal of AIDS. The most powerful dramas are the ones where we can see ourselves and our loved ones. The story of Gail and her family gives us the opportunity for recognition and empathy.